Background
Most people who have been on Jeopardy! talk about how it has always been a favorite since childhood. I do not have that privilege as I came from India to the US in 2000 on a work visa when I was 23 years old. When I asked some of my co-workers for recommendations on good quiz shows on TV, someone said Who Wants to be a Millionaire? and Jeopardy!. Millionaire was in its prime at that time but after watching a few episodes, I realized that there was too much of a cultural gap for me to appreciate the nuances of the game and gave up. For a guy who came from the tropics of South India to the winter of Maine, there was much to do outside the TV land and I never got around to watching any Jeopardy!.
Quizzing has always been in my blood, thanks to my father who was a hobby quizmaster for local schools and colleges. During school days, I used to avidly wait for a teacher not to show up so that I could conduct a quiz in the class during the free time and for this, was caned a few times for not letting my classmates study! During undergraduate days, I was the guy who would go anywhere for a quiz; once someone remarked that there was a 'Quiz on Everest' - his implication being I'd climb the mountain if there was a quiz there, while I thought he meant a 'Geography Quiz' and chased him down asking for the venue! Wherever I went, I dominated the competition and was known as the 'fat guy who never lets us win' in the local quizzing circuit.
I always wanted to study in the US; while working in Maine, I saved up for school and enrolled in a Masters program in Indiana University at Bloomington and finished well in 2003 (

Go Hoosiers!). Thankfully, I did not know about the University Quiz Bowls at that time, otherwise my GPA would have been a point lower. After graduating, I got busy in life with meeting my wife, marriage and buying a home and there was no time for trivia. Our little one arrived in late 2006 and I used to hold her every evening after coming back from work and started watching Jeopardy! regularly during this time. After a few months, got the idea that maybe I can give it a shot and came across Karl Coryat's famous webpage on how to prepare for the show. During the initial stages, my score was between 10-15K per game when I had a very long way to go and a lot to learn about American life and history. I created this website to write questions as it is the best way to reinforce whatever I was reading.
Timeline
This is the timeline of my progress. My wife Chandana helped me a great deal during this time.
2008: After watching the show regularly for a year, took the online test in January and scored 24 out of 50 (the show never reveals what the qualifying mark is, but people say it is 35). Realized that merely watching was not enough. Decided to tailor all reading towards J! topics. Made a list of 15 major and 350 minor categories and started to gather reading material.
2009: Took the online test for real in January and scored 39 out of 50. Got a call for an audition in June. Was about to turn down the call as I felt I wasn't ready but my wife and Sven, a former Jeopardy! champ, advised me to take the chance. The audition went really well and my answer of "Buy premium Redskins tickets" to the question "What will you do with the money if you win?" and the anecdote of getting grounded at home for watching a real street riot when I was 12 got a lot of laughs. I played a sample game with David Goodman (who won $1 million on Millionaire) and as we walked out, he told me to expect a call as I would be good TV. I was in the Jeopardy! pool for real!
2010: Averaged 45 in the online tests that I took for fun and felt ready to be on the show. Finally met my target of consistently scoring in the high 30Ks and having a few 40K+ games. Knew that further improvement was no longer possible in the short term (I deliberately ignored some aspects of pop culture like old TV shows as the pay-off does not match the effort of watching them and making notes).
2010 Feb: Got the call to be on the show when I was visiting my parents in India. The coordinators called again when I landed but had to turn down the chance as they wanted immediate appearance while I was in the middle of clearing 20 inches of snow around the house. Requested them to call me after June as my parents were going to visit us in the summer and I would love for them to watch the show live. They kindly agreed. Though my father could not make the trip this time, this provided my mother the opportunity to watch the greatest quiz show in the world live.
2010 Aug: Got the call to tape on Sep 22. The three ladies in my life (mother, wife, daughter) accompanied me to L.A. from Virginia and two of my best friends, Paramesh and Krishna Mohan (GK), whom I know since kindergarten days flew down from SFO. I sent my family to Disneyland on Sep 21 and put in a marathon 12-hr session in the hotel room reviewing my notes one final time.
Taping Day
Chandana asked me how I felt that morning. I told her that I was as ready as I could be and if I have to lose, it will be because of a very strong player or pure bad luck. I was as strong as anyone in the core Jeopardy! categories like Presidents/Art/Shakespeare/Opera/Mythology etc and the only category I did not want to see was clues about old TV shows. Went into the studio with a strong conviction that I was good enough to win. The practice rounds also reinforced my belief as I could ring in quite often and none of the other players scared me. I won't bore you with other details of taping - if you have been there, you know the routine and if you haven't, it is just a series of signing forms, instructions and the like. I let out an involuntary 'wow' after seeing the beautiful set, making the contestant coordinator Robert laugh.
My entire fellowship turned up at the studios with the idea that one of the adults would be in the parking lot babysitting the (then) 3-yr old. On a whim, they turned-up at the set and the staff kindly allowed my daughter to sit in the audience if she could stay quiet. They were so impressed by her that one of them brought her grapes as a treat (if only it would work at home!). So she probably has the record of being the youngest ever member of a live audience for Jeopardy!.
I was with the other players biding my turn and watched two games. Felt the boards were easy and the competition was good but not scary good. Was called for the third game of the day and had to face Marissa, already a 3-day champ and Ellen, who was looking good in the rehearsal.
Carpe diem!
The Game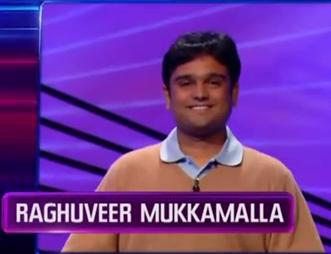 If you talk to anyone who ever played a game of Jeopardy!, you will notice them saying that the game is faster on the stage than it is at home. I second this; though I rung in well on the first few clues, I was a little sluggish in the initial stages and did not process clues that I would have easily dealt with at home. I finished the first round in third place but was not worried at all. The Single Jeopardy! round is sometimes skewed towards pop-culture (as it was on this day) and my aim was not to trail the leader by too much and I accomplished it. By the time the Double Jeopardy! round started, I was sufficiently warmed-up. This is where the real game is.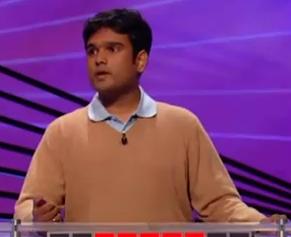 The categories in the Double Jeopardy! round were revealed as ISLAND NATIONS, TV CHARACTERS, FLY ME WITH BALLOONS, MEDICAL ABBREVIATIONS, 20th CENTURY FACES and BABY TALK.
Before the game began, Ellen indicated that TV was her strongest category and when I saw the categories, I knew it would be a slug-fest. My only wheelhouse was ISLAND NATIONS and I knew Ellen had a strong advantage in TV CHARACTERS and MEDICAL ABBREVIATIONS (she is a nurse, after all). I did well on the ISLAND NATIONS and the history themed 20th CENTURY FACES. I missed hitting either of the Daily Doubles (DDs) but did ring in on the preceding clues, so I was just beaten on the buzzer. I knew all three DDs in the game; just last year, I read a bio about the Montgolfier brothers and the last DD was about that! I played well otherwise and hit a lot of high-value clues was in the lead at the end of the Double Jeopardy! round with $16,600.
The Final Jeopardy! category was revealed as LITERARY LINES. Literature is by-far my strongest category and I was ecstatic; even my wife said later that she started celebrating in the audience. I thought I was home.
The Miss
The clue in the final round was:
"You have no right to expect me to send you back to Kansas" appears in a 1900 novel and in an epigraph to this 1995 novel.
1900/Kansas immediately pointed to The Wizard of Oz and I started thinking about 90s bestselling books that touched this theme. I thought about Sarah, Plain and Tall for a long time because it fit 'Midwest' and the theme of a girl traveling away from home; the timeline did not seem off either. But it felt too obscure and just did not click. I then thought 'Are they talking about the witch?' but still could not find a 'book' that fit and realized I was in trouble. 'Witch' suggested 'crime' and the only book that fit 'Kansas' and 'crime' was In Cold Blood and I put it down despite knowing it made little sense. As the think music ended, I kept thinking about what else is associated with The Wizard of Oz and then recalled a note from my last minute review that very morning - 'Name of the witch in the musical Wicked - Elphaba' and immediately felt a knot in my stomach; book or no book, it had to be Wicked. All my mental flailing could not take me back in time and that was that.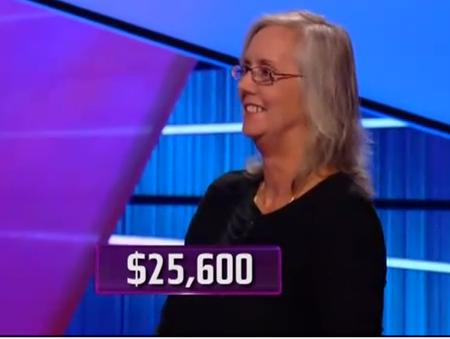 Ellen bet a bundle from the 2nd place, got it right, and deservedly won.
I never associated Wicked with a book because whenever I read or heard about it, it was always in the context of Musicals (and this would be true for 99/100 people unless they had come across the book somehow). After coming back from L.A., I went through all my notes to see if I had ever come across it as a book but there was no such thing. Just the week prior to my game, there was a final round clue about Maugham's The Moon and Sixpence; it makes me laugh because I read that book multiple times. If winning is not in one's naseeb (good word, look it up!), there is nothing one can do.
The Aftermath
My original plan was to watch all games of the day but my game being the 3rd one of the day, there was a break for lunch and I was too gutted to go back. My wife and I met Ellen later in the lobby and congratulated her again; I told her I was sorry I did not stay back to watch her defend. As you might expect, this was a hard loss as even one win would have been a fairytale ending to my preparation.
The Positives
People ask me how the experience has been. The final result does cloud it to an extent but I recognize the following positives: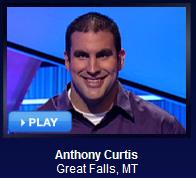 A new friend: While everyone on the taping day was nice, Anthony Curtis, who played the previous game and tragically lost by a dollar was the best guy I met. I made a new friend.
Family: My wife went way out of her way to help me get ready for the show by affording me a lot of time to read and when I got the call to tape, she took my daughter camping with other friends so that I could prepare over a weekend. And I would never have entered the world of trivia but for my father. Perhaps I used up all my luck for what really matters.
Meeting my goals: I overcame significant odds and almost won on the greatest quiz show in the world. Stu, a prospective contestant put it as, "I think that the fact that you finished with $16,600 after DJ WITHOUT getting a DD and in a game in which the other two players were (or would become) J! champions speaks volumes and likely places you near the top of the list of best players not to win (particularly if you exclude those that had the misfortune to play Ken Jennings). Not that this was the distinction you craved I know, but certainly something to boast about."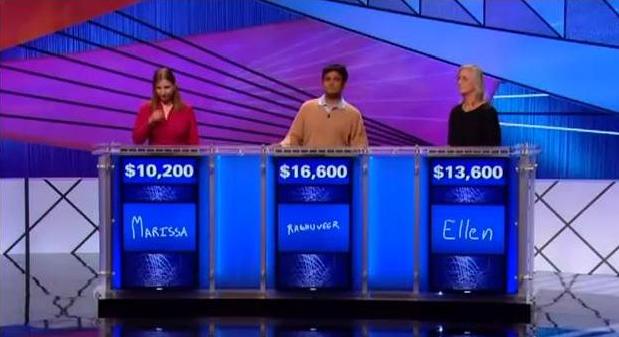 The Contestant Coordinators: Maggie, Robert, Corina and Glenn were wonderful people and it was a privilege to have met them. You really have to meet Maggie to know what I mean when I say she is a mama bear! I hope to meet them again in the years to come.